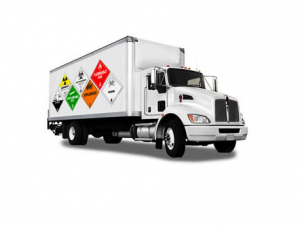 TRANSPORTATION OF DANGEROUS GOODS (TDG) TRAINING
Instructor-Led, In-Person, TDG TRAINING SERVICES provided across Ontario. All areas including the North such as: Sudbury, North Bay, Sault Ste. Marie, Timmins, Kirkland Lake, Thunder Bay, Kapuskasing, Kenora, Red Lake, Parry Sound, Muskoka.
Courses are Customized to your distinct needs and taught In-House by a Certified Hazardous Materials Technician NFPA-472
Traditional classroom training, taught at a pace set by the group.
Real life situations and examples by a trainer with professional expertise.
Debates and in class discussions motivate learning.
Students bond with someone that has experience, who can answer their questions knowledgeably.
Face to face training offers verbal feedback and constructive criticism that instills motivation to learn.
Employees will appreciate the time spent in class and the level of education they've received when they are required to use it on the job.
---
C-12 Training Requirements for Drivers of Waste Transportation Vehicles
Regulation 347 under the Environmental Protection Act has been designed to ensure that wastes are effectively managed from the point of their generation to where they are ultimately processed or disposed of. To provide this necessary control, the regulation includes definitions for different waste types and detailed requirements for a range of waste management activities. This guideline deals with one of the major responsibilities for the transportation of municipal waste, liquid industrial waste or hazardous waste: driver training.
Take our online course!
---

Welcome to driver training for Waste Management Systems, EPA Regulation 347 C-12 Driver Training Certification program.
This course includes references to the Land Disposal Restrictions, better known as the LDR. It also encompasses the Transportation of Dangerous Goods Act or the TDGA.
By the end of this course you will have a better understanding of Regulation 347 and how it applies to you, the operator or driver of the vehicle, in relation to the waste you are hauling and the regulations surrounding those duties.
https://www.ontario.ca/page/c-12-training-requirem...
OUR GOAL:

To train your employees to gain confidence in their ability to complete TDG documentation and have a better understanding of TDG regulations.
In a recent study of Traditional Teaching versus e-Learning: "Results showed statistically significant differences in all measurements in favour of traditional teaching."
---
Make the Smarter Choice! Take a Look at the TESTIMONIALS ... Our Methods Work!
In-Class Training = Positive Results
Gain more Skill Sets and Knowledge with Traditional Learning.
CALL NOW (705) 665-3719 or Toll Free at 1 (855) 282-4537
Green Lights maintains traditional values but we are Always Moving Forward with the times. We understand the need for e-learning online training, so we have an extensive list available for all industries! Hands on, in person is the best way to learn, but if you are limited by time, then we've got your solution! Please see our course list. e-learning online learning course list
REGISTER NOW for Waste Management Systems, EPA Regulation 347 C-12 Driver Training
---
Documents
---
---
Inquire Now!