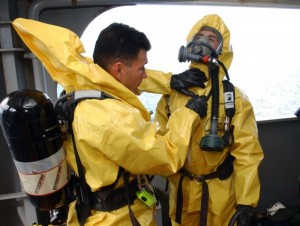 CBRNE Training (Chemical Biological Radiological Nuclear Explosive
Green Lights develops and delivers CBRNE training and education programs tailored to roles, responsibilities, and capability levels based on company policies, recognized standards, and best practices.

Education standards haven't changed since 2011 however, it is recommended to:
have reviews of emergency management training (every 1-3 years), and providing training for new employees,
establish a curriculum and standards for CBRNE equipment inventory and review (every 3-5 years), by Green Lights or another third party.
evolve your policy framework for the standards in CBRNE policies, programs, equipment and training.
This would enhance decision-making in a timely fashion and effectively improve integration. Followed by coordination of plans,(SOP) standard operating procedures, including training and equipment.
have regular reviews and/or physical practices, in order to build an effective workforce that is supported by a responsive training program according to each individual's specialized roles, responsibilities, and contributions.
Green Lights is happy to assist in these areas as well.
THREE QUESTIONS TO ASK YOUR CBRNE TEAM.
Do we have:
the right mix of training, organizations, plans, people, leadership and management, equipment, and facilities to perform a required emergency CBRNE task?
a trained and officially mandated Responder available in a response to a CBRNE event?
a reasonable number of available and trained personnel ready to handle any CBRNE scenario?
If you answered YES to all three questions, sounds like you are prepared. If you answer NO to any of these questions, we can help.
CONTACT GREEN LIGHTS. We can provide you with your CBRNE AWARENESS CERTIFICATION .
1-855-282-4537
---
Inquire Now!