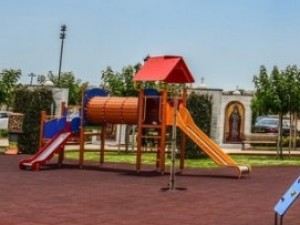 Certified Playground Safety Inspection Inspector

Green Lights demonstrates the skills required to properly provide detailed safety inspections for your playground equipment.
Fundamentally, playgrounds are linked to learning but they also can become a hazard if not inspected annually and maintained.
Inspections include but are not listed in its entirety:
Minimize the likelihood of serious and/or life-threatening injuries
Pivot point of swings
Swing seats must comply with an impact test
The slope of the sitting section on a swing shall not exceed 18 from horizontal
Embankment slide must meet the required criteria
Spiral slides with open bedways shall maintain a clear area
All openings must be checked to determine if a child's head can become trapped
All playground equipment with a fall height must have surfacing material used within the protective surfacing zone

Cord length and entanglement
Consideration is given to guard against inadvertent falls from upper platforms

Handgrips and Hand-grasps shall conform to the requirements

Clearance between moving parts

Planar nets with a plane angle of inclination must have a required height above the protective surfacing
Roofs or shade elements that are an integral part of a play structure have to be confirmed

Extreme measures are taken by Green Lights to ensure each child's safety and the compliance with CSA of the playground equipment and structures. (Canadian Standards Association - CSA Z614 Standard Requirements.)
Canadian Certified Playground Inspector

https://www.cpsionline.ca/index.php?action=cms.trainCpsiInspector

---
Inquire Now!