WHMIS 2015 Are you preparing for December 1, 2018?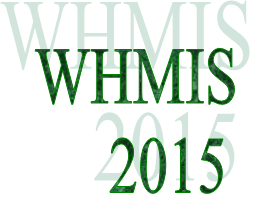 WORKPLACE HAZARDOUS MATERIALS INFORMATION SYSTEM (WHMIS)

WHMIS is the system that is in place to provide information to employers and workers regarding hazardous products and materials in the workplace. WHMIS came into effect in 1988.
Changes were made in 2015 to the Hazardous Product Act and Regulations (Canada) as well as to the WHMIS 2015 Regulation 860 (Province of Ontario) to align with the Global Harmonized System (GHS).
WHMIS 2015 TRANSITION PHASES
June 1st, 2018 Manufacturers and Importers acting as Suppliers - Must be WHMIS 2015 compliant
September 1st, 2018 Distributors acting as Suppliers - Must be WHMIS 2015 compliant
December 1st, 2018 Employers - Must be WHMIS 2015 compliant
DUTIES OF THE SUPPLIER
The duties of a supplier of hazardous products intended for use, handling or storage in a workplace are set out in the federal Hazardous Products Act (HPA) and the Hazardous Products Regulations (HPR).
A supplier must ensure that the SDS for a hazardous product is accurate, current and meets requirements in the HPR every time the product is sold. If a supplier becomes aware of significant new data about a hazardous product, the supplier must update the SDS within 90 days (subsection 5.12(3), HPR).

WHMIS 2015 compliant SDS or updates to an SDS are to be sent to the buyer.
A supplier must ship hazardous products or materials with the appropriate supplier label.

Products shipped after December 1st, 2018 must include the appropriate WHMIS 2015 label or they may not be accepted or received at the time of delivery.
If a Confidential Business Information claim is granted by Health Canada under HMIRA, the following must be disclose on the SDS and, if applicable, on the label or container of the hazardous product:
i. a statement that an exemption has been granted;
ii. the date of the decision granting the exemption; and
iii. the registry number assigned to the claim by Health Canada under the HMIRA (subsection 23(1), WHMIS Reg.).
Following the transition dates, Employers may notify the Ministry of Labour in writing if, after making reasonable efforts, are unable to obtain a supplier label or SDS from the supplier (subsection 37(4), OHSA).
LINKS
R.R.O. 1990, Reg. 860: WORKPLACE HAZARDOUS MATERIALS INFORMATION SYSTEM (WHMIS)
Workplace Hazardous Materials Information System - A guide to the legislation
---
January 1st, 2018