MySDS & Green Lights Support March of Dimes
April 26, 2019
March of Dimes Sudbury gets $1.85M to help people with disabilities find work
Federal funding boosts Accessible Biz Connections program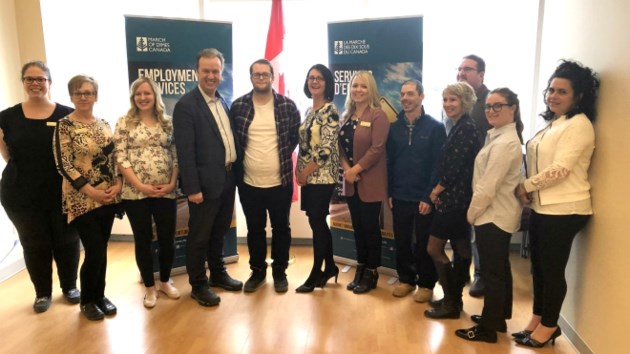 Sudbury MP Paul Lefebvre announced $1.85 million Thursday at the March of Dimes Sudbury office downtown. The money supports a program that helps people with disabilities find work. (Darren MacDonald/Sudbury.com)
Brett LaForest hopes other people with disabilities get the chances he has had: to find a job and, as he put it Thursday, "Start a real life."
"I love my job!", LaForest said at a news conference to announce funding for an employment program that helped him find work. "I'm really nice to everybody and I really love doing my work."
LaForest works at a local grocery store in a position supported partially through the March of Dimes Sudbury Accessible Biz Connections project, which received a $1.85 million boost from the federal government Thursday, which will help 280 people find work.
Janine Roy, the group's regional employment services manager for the Northeast District/Sudbury, said people with disabilities face unique challenges when trying to enter the workforce, and this sort of funding makes helping them find work possible.
"Employment is a crucial part of accessibility and inclusivity," Roy said.
"It tough for people with a disability to get a job." he thanked the federal government for "making it easier to tap into this great pool of people and get them employed."
"We're very proud of the work we have done so far," Roy said.
Sudbury MP Paul Lefebvre made the funding announcement on behalf of Carla Qualtrough, the minister of Public Procurement and Accessibility. The money is part of a special federal fund earmarked to help people with disabilities enter the workforce.
Lefebvre said, "Removing barriers of all types is a major priority for people with disabilities, and we know they experience significant barriers in securing gainful employment."
"For that reason, we have partnerships with regional and national organizations to help people with disabilities access the tools and resources they need to find employment," he said.
The funding from the federal government will be used to build employment skills and enhanced employer support and work experience interventions, on a continuous basis.
The money helps people who have no work experience develop skills and find a place in the job market.
"We have come a long way, but as I'm sure you will agree, so much more remains to be done before Canada is accessible for all," Lefebvre said.
"True inclusion is also reflected in the laws we pass and the way our systems operate."
For his part, LaForest said, "Having a job has made a huge difference in his life."
"I hope everyone with a disability can do exactly what I have done," he said.
https://www.sudbury.com/local-news/march-of-dimes-sudbury-gets-185m-to-help-people-with-disabilities-find-work-1394549
---
April 26th, 2019